According to a survey, India produces around 5 million or 50 lakh graduates every year, but the number of jobs available is much less than the number of graduates produced per year. The situation is alarming and it is getting even worse in the present pandemic scenario. So getting a satisfactory job in a reputed company in India has become an enormous challenge in recent times. Therefore, students crave to pursue their desired course at a top-level institution where they get the best career opportunities. Top-level colleges in India have tough admission criteria. They select candidates based on their academic performances and a substantially challenging admission test followed by a personal interview. One such institution for post-graduate business administration program is IIM, which has 20 branches in different cities across India. And the gateway to IIM is CAT, which is held every year. Except IIMs, there are other reputed B-schools of India and some of the international institutes (listed in the following table) in Europe and in other countries also accept CAT scores for their admission.
CAT is basically an all-India based entrance exam. Depending on the percentile in CAT, candidates get different opportunities in the top B-schools in India to pursue MBA/PGDM courses. Normally MBA is a 2 year program and it is an internationally acknowledged Master's degree program that imparts deep foundation in advanced business concepts and provides practical experiences via assignments and internships. Students also develop good hard-skills in management and leadership along with excellent communicational skills. Expertise in these essential skills supports the future career growth of any student in many possible ways. During MBA students also develops the entrepreneurial skills, which may lead to starting his/her own venture. That's why MBA is considered as "Career Accelerating" degree.
In this era of globalization and privatization, candidates with excellent managerial and administrative ability and experience have high demand in all the sectors. Companies are ready to offer higher salary packages for these skills. That is why the growth rate of MBA graduates in those companies is more than other graduates. A comparative study of salaries of MBA graduates, engineers and normal graduates are shown below.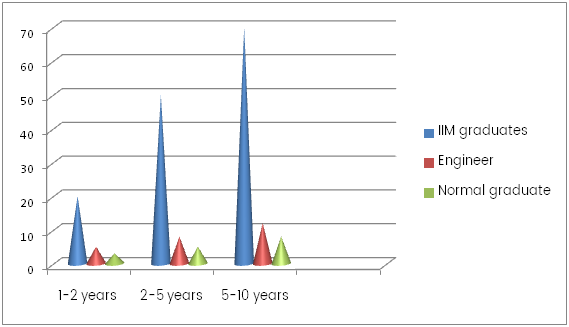 List of foreign B-schools that accept CAT score
Sl.No.

Business School

Course Offered

Accepted Entrance Test

Country

1

EMLyon Business School

MSC In Management

GRE/GMAT/CAT/TOEFL

Lyon,

France

2

AUDENCIA Business School

MSC In International Management

GRE/GMAT/CAT

Nantes, France

3

HEC Paris

Masters In Management

CAT/ECTS

Jouy-en-josas,

France

4

SKEMA Business School

Masters In Management

GMAT/GRE/CAT

Euralille, France

5

EDHEC Business School

Masters In Management

GMAT/GRE/CAT

Paris,

France

6

ESSEC Business School

MSC In Management

GMAT/GRE/CAT

France /

Singapore/

Morocco

7

ESCP Europe Business School

Masters In Management

GMAT/CAT

Germany

8

Singapore Management University

Masters In Management And

Master Of Science & Management

GMAT/GRE/CAT

Singapore

9

Sp Jain School Of Global Management

Masters Of Global Business

GMAT/CAT

Dubai/Singapore/

Sydney

10

Stuart School Of Business, Illinois Institute Of Technology

Masters Of Business Administration

GMAT/GRE/CAT

Chicago, USA

11

Norwegian School Of Economics

Masters In International Management

GMAT/CAT

Norway

12

Asian Institute Of Management

Masters In Business Administration

CAT/XAT

Philippines